AGE INTERVENTION® DUALITY MD™
$

100.00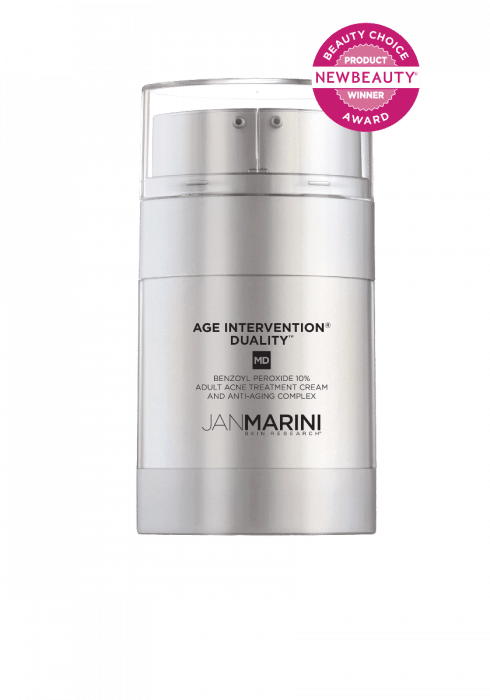 What It Is: Jan Marini Age Intervention Duality is a breakthrough product providing serious acne control and dramatic anti-aging benefits. Its unique dual chamber dispensing solution combines to per cent benzoyl peroxide, concentrated retinol as well as multiple peptides, anti-inflammatory agents and ultra-moisturizing hyaluronic acid.
What It Does: The retinol in Duality works to increase cell turnover and encourage exfoliation to allow healthier cells to appear. This means skin will appear smoother, softer; pores will appear smaller and signs of aging, sun damage and dullness will diminish. Benzoyl Peroxide destroys the P. acnes bacteria that combines with oil in clogged pores and triggers breakouts.
Featured Brand: LA ROCHE POSAY
Why I Love It: The launch of Duality came equipped with some seriously impressive clinical data. too percent - yes, that's right - every single user reported a reduction in acne and improvement in overall skin satisfaction. Understandably, my expectations for the product were therefore very high. But after applying the dual action lotion nightly, I can happily attest to the product's too per cent satisfaction rate.
When I first started using Duality about 2 months ago, my skin would frequently breakout - from mild to moderate - and lesions would take a good week or so to dry up and 'smooth out'. I started noticing in the morning after applying the product, lesions would be noticeably smaller, less inflamed and the skin would regenerate much faster. Now, I no longer experience the same kind of frequent breakouts (just the occasional minor blemish, from makeup-related congestion) and moreover, the actual texture of my skin has visibly improved.
Anti-Acne Cream
Active Ingredient: Benzoyl Peroxide 10%
Inactive Ingredients: Water/Aqua/Eau, Propylene Glycol, Glycerin, Sorbitol, Polyacrylamide, C13-14 Isoparaffin, Cyclopentasiloxane, Cyclohexasiloxane, Carbomer, Laureth 7, Triethanolamine, Disodium EDTA, Diazolidinyl Urea, Methylparaben, Propylparaben
Anti-Aging Face Cream
Water/Aqua/Eau, Caprylic/Capric Triglyceride, Glycerin, Cyclopentasiloxane, Glyceryl Stearate, Polysorbate 20, Carthamus Tinctorius (Safflower) Seed Oil, Polysorbate 60, Stearic Acid, Butyrospermum Parkii (Shea) Butter, Stearyl Alcohol, Retinol, Myristoyl Tripeptide-4, Sorbitol, Bisabolol, Sodium Hyaluronate, Camellia Oleifera (Green Tea) Leaf Extract, Palmitoyl Tetrapeptide-7, Palmitoyl Oligopeptide, Chrysin, Dimethicone, Cyclohexasiloxane, Dimethicone/Vinyl Dimethicone Crosspolymer, Glyceryl Acrylate/Acrylic Acid Copolymer, Steareth-20, N-Hydroxysuccinimide, Triethanolamine, Carbomer, Hexylene Glycol, Ethylhexylglycerin, Caprylyl Glycol, BHT, Phenoxyethanol
Our commitment to product validation and independent research ensures not only superior results but also a user experience that is unmatched in the professional marketplace.
Methods
A 3-month study using the Skin Care Management System™ and Duality MD™ on 21 subjects ages 20-29. Conducted by Jaggi Rao, MD Board Certified Dermatologist, FRCPC, Professor of Medicine, University of Alberta.
Results
100% of subjects experienced a reduction in acne lesion counts
Improvement was statistically significant by week 4 and continued to improve through completion
64% average lesion count reduction (range 36% to 78%)
100% of subjects experienced significant improvement in skin quality by blinded photographic review
High subject satisfaction with no reported irritation or excessive drying
Share