CLEAR REGULAR STRENGTH DAILY SKIN CLEARING TREATMENT WITH 2.5% BENZOYL PEROXIDE
$

20.00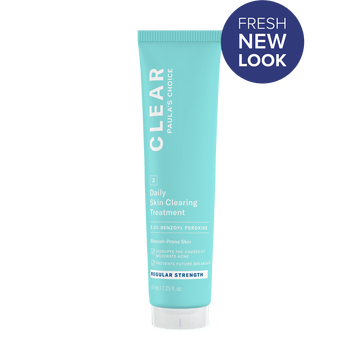 Active Ingredient: Benzoyl Peroxide 2.5% (anti-acne)
Inactive Ingredients: Water (Aqua), Propylene Glycol (hydration/penetration enhancer), Bisabolol (skin-soothing), Allantoin (skin-soothing), Acrylates/C10-30 Alkyl Acrylate Crosspolymer (texture-enhancing), Hydroxyethylcellulose (texture-enhancing), Sodium Citrate (pH adjuster), Laureth-4 (stabilizer), Caprylyl Glycol (preservatives), Hexylene Glycol (preservatives), Sodium Hydroxide (pH adjuster), Disodium EDTA (stabilizer), Phenoxyethanol (preservative).
Featured Brand: LA ROCHE POSAY
CLEAR Regular Strength Daily Skin-Clearing Treatment with 2.5% Benzoyl Peroxide works on contact to disrupt the causes of acne. Soothing plant extracts calm and soothe skin. This twice-daily acne solution has a super-light lotion texture that sets to an invisible matte finish, and can even be worn under makeup. It is even suitable for skin prone to cystic acne.
Treatments and Serums: Acne Treatment
Ideal for these Concerns: Acne, Redness, Blackheads, Whiteheads
Ideal for these Skin Types: Oily Skin, Acne-Prone Skin, Combination Skin
Preferences: Fragrance-Free, Certified Cruelty-Free, Clean
Key Ingredient(s): Benzoyl Peroxide
Application Area: Face
What does it do?
This oil-free, ultra-light lotion helps fight existing acne breakouts and prevent future breakouts on the face or body. It controls excess oil, soothes skin, and visibly calms redness, while its hydrating properties help minimize dryness and peeling.
This anti-acne treatment contains 2.5% benzoyl peroxide, which rids the skin of acne-causing agents and helps avoid future breakouts. It's formulated in a lightweight lotion base that sets to a soft matte finish and it contains soothing antioxidants. This combination means it can remain effective against the agents that cause acne while being gentle on skin, even skin prone to cystic acne.
Regular use will lead to significant improvement for anyone struggling with stubborn, persistent acne, and it also can help improve unevenness left over from breakouts.
Tip: Some may experience dryness when they first start using a benzoyl peroxide product; if you do, then reduce the frequency of application as needed.
Environmental aggressors, pollutants and cosmetics can wreak havoc on your skin. Combat breakouts and blemishes at the source with Paula's Choice CLEAR Regular Strength Daily Skin Clearing Treatment. The lightweight formula eliminates pore-clogging bacteria with benzoyl peroxide, the standard for preventing acne, and keeps excess oil at bay. Instantly, you can see it begin to minimize redness and the look of large pores.
Working with your skin rather than against it with harsh chemicals that stress your skin, this topical solution doesn't include skin-irritating ingredients like alcohol, menthol or camphor. Soothing anti-irritants help to rapidly heal your skin and reduce the red marks caused by blemishes. Delivering a matte finish that's ideal for under-makeup application, it leaves you with the smooth, covetable complexion that you deserve.
Key Ingredients:
Allantoin: alleviates irritation on the skin caused by acne and bacteria
Benzyl Peroxide: an effective antibacterial to reduce and eliminate acne-causing bacteria
Bisabolol: soothes irritation and inflammation on the skin
Share